I enjoy SA junior champs!
There is usually a vibe with the young surfers generally having a good team and competitive spirit.
This year the champ was held at lower point in J-Bay and was an epic event. We had good weather and very good, contestable waves throughout the event.
I got involved with the Western Province (W.P.) team and tried to capture the event from this perspective.
I was a little disappointed with some of the team members who did not embrace the team spirit side of things and there was way to much drama the night before finals day.
However, there were a couple individuals that were a major surprise and an asset to the team.
Dylan Wichmann surfed smart all the way to the semi finals while Ethan Pentz went all the way to the final.
It was a fantastic display of competitive surfing from these two U/17's
These two also provided, what for me, was the moment of the event when Ethan and Dylan congratulated each other on an emotional and hectic quarterfinal.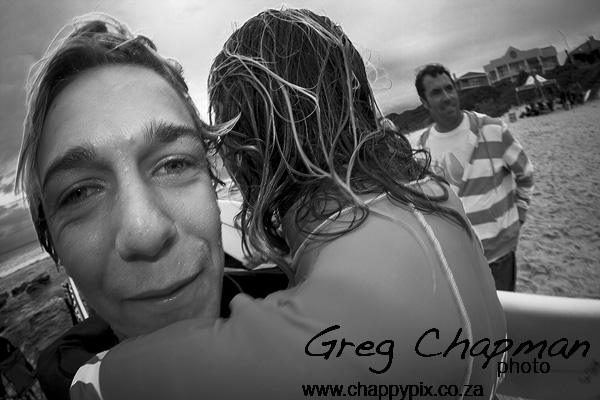 Moment of the Event, Dylan and Ethan after a tense Quarter Final
The Quarter Final was a 5-man heat and we had 3 surfers in the mix with 4 surfers advancing to the semis.
Ethan, Dylan and Benji Brand took to the water with the aim of getting all 3 W.P. surfers through the heat.
Benji smashed it while Ethan produced the form of his life leaving Dylan a little vulnerable.
Dylan had to endure some intense paddle battles and even had his board kicked in the water while the guilty surfer threatened him.
Dylan kept his cool and survived the heat and all 3 W.P, surfers where through to the Semi finals of the boys U/17 division. Up to that point it had been a bad day for the team and we needed as many surfers to advance…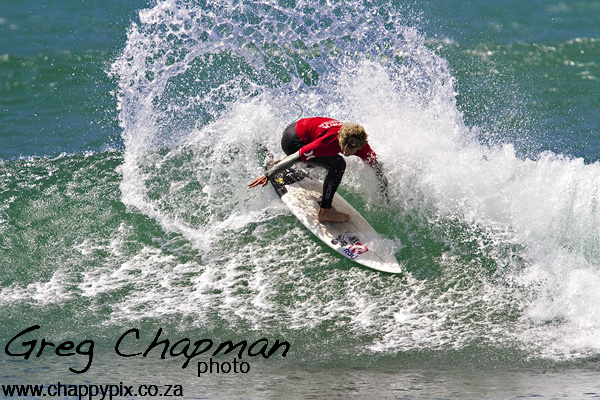 Benji Brand shows the form that took him to the U17 title
I was hugely impressed with the boy's U13 and U15 divisions. Some of the events best surfing came from these divisions. It is good for SA surfing that we have such competitive junior divisions. There is a lot of talent there and non-more so than U15 winner and surfer of the Contest, Matt McGillivray.This kid is on another level and is the next big thing in SA surfing. Watch this space!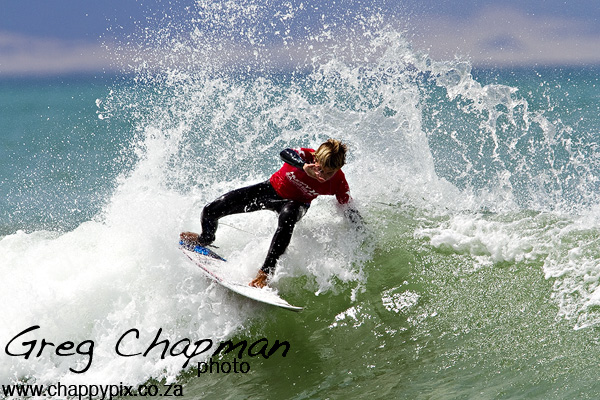 Surfer of the contest and U15 winner, Matt McGillivray
I was super stoked for girls U17 winner, Gina Smith. Gina's surfing has improved drastically and deserved her win.
Benji Brand was W.P's. only champion. Benji blew the opposition away and they could not counter his critical back-hand surfing and deserved his U17 title.
W.P. 3rd place in the team standings was a little disappointing but most surfers gave it their all and tried their best.
Stoked to have been part of this.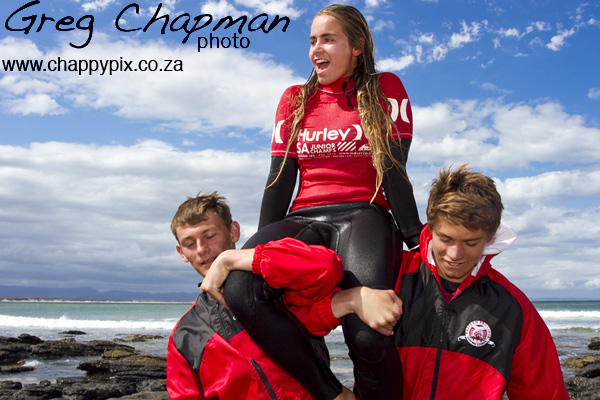 U17 winner, Gina Smith
An extended gallery of images of the 2012 SA junior surfing championships