Mid March and I was up the East Coast. Again!
This time I was with on a grom (young surfer) trip and I had high hopes for this mission.
Within two hours upon arrival in JBay the swell pulled in.
It was literally flat when I arrived and by the time I decided to go for a little walk a couple hours later, there were 4 foot sets rolling down the point at supers with no wind.
For this first session of the trip I decided to leave the big overweight long lens in the room and shot with my favorite 70-200mm.
The idea here was to look for more interesting compositions and therefore to be able to change position quickly.
In the water I had Davey van Zyl, Koby Oberholzer and Mexican super grom, Sebastian Williams going mental in the fun waves and the last thing I wanted was to be tided down to one shooting position.
I seriously don't understand photographers who pick a spot and don't move. Its like they are more concerned about being noticed than actually looking for interesting images to create.
Being a photographer is a whole lot more than just having a fancy camera, there is a little thing called composition that needs to be taken into account.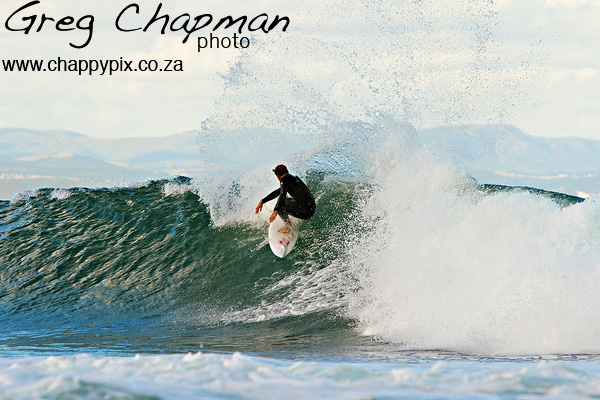 Davey van Zyl hacks one
This first session only lasted a couple of hours before the onshore picked up but I was stoked to have some goodies captured.
The following day dawned spectacularly and it was such a privilege to be witness to such a sunrise.
Sadly the waves were far less spectacular
As the tide pushed the swell got more fun and the Wichmann brothers and I decided to shoot a fun beach break that had a few good rights pulling in.
This was the first and last time I water shot in a wet suit on this trip, as by my standards the water was fairly pleasant.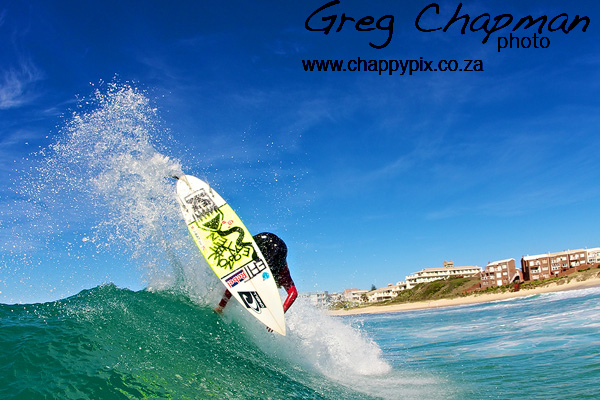 Dylan Wichmann busts out at a fun beachie
For this particular session, Don Wichmnann, was a standout.
Don was trying hard to surf for the camera and we came back with some good images.
Don was impressive the whole trip and the last couple of frames I shot where of him laying down a huge hack down the point. This was possible the sickest hack I have see this kid do and was a fitting way to end the trip.
Most of the shooting was done in the mornings as the onshore generally killed things off by the afternoons.Another session that stands out for me was where I had Nicole Pallet, Josh Smit and Slade Prestwich in super fun, clear warm water.This was a tricky shoot as good sections were hard to come by and the waves where shifting quite a bit.I eventually did more swimming than shooting but being in such amazing water I did not mind and we nailed a couple of good shots.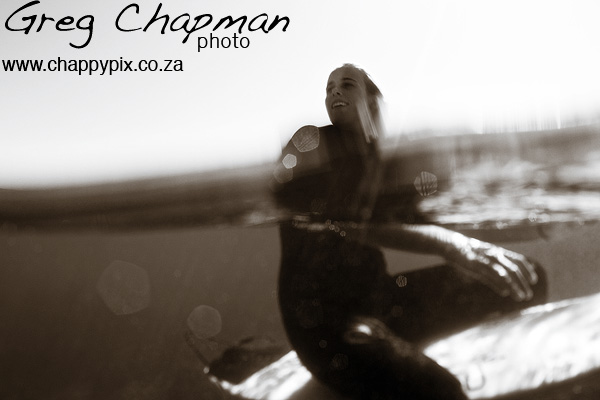 Nicole Pallet
This Grom mission was such a fun trip.
I do enjoy coming up the East coast. I feel so relaxed and therefore have a heightened sense of creativity.
Another advantage is that there are not many people shooting up here which is great for me as there wont be some  recreational photographer shooting over my shoulder and posting his/her pix to facebook an hour later killing off any interest there may be in the session.
To make life even better I was blessed with some talent and sick surfing.
Along with the Wichmann's , Davey van Zyl, Koby Oberholzer and Sebastian Williams, I was super impressed with Jake and Max Elkington.
Max was suring amazing during the early heats of the RVCA comp while Jake really impressed during an evening session out at Supers.
Adin Masencamp was another that was ripping.
Gina Smith was also hugely impressive.
I had not seen Gina surf since SA junior champs and she has clearly been working hard at her surfing and it showed.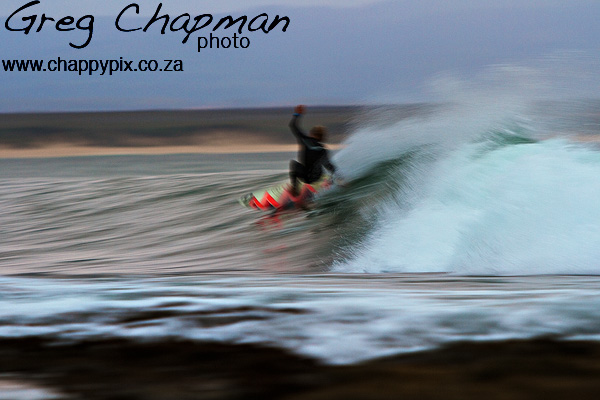 Jake Elkington in a blur
With the grom mission these is bound to be some fun and games.
Highlights (for me) were tying up Jake Elkington.
Dylan Wichmann hiding in a cubboard in a feeble attempt to impress a girl!
The Wichmann brothers attempting to by dinner at the local Spar also provided some "interesting" moments.
Pasta night at the Elkington's provided many laughs and good times.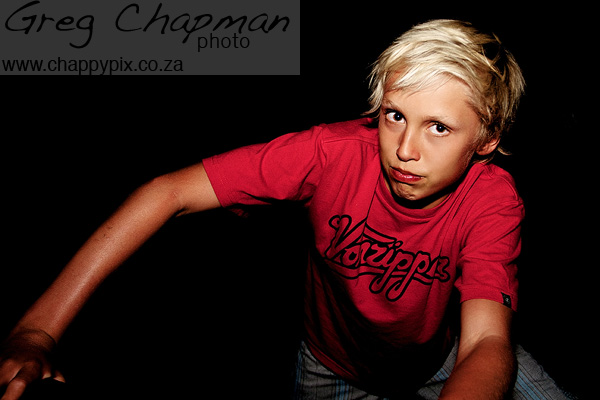 Max Elkington up to no good as usual
Finally a thank you to the Smiths for spoiling me (again)!
Gina for brining me tea on the beach and Emma for lending me a top when it was cold and rainy, very much appreciated and I would like my towel back! Please.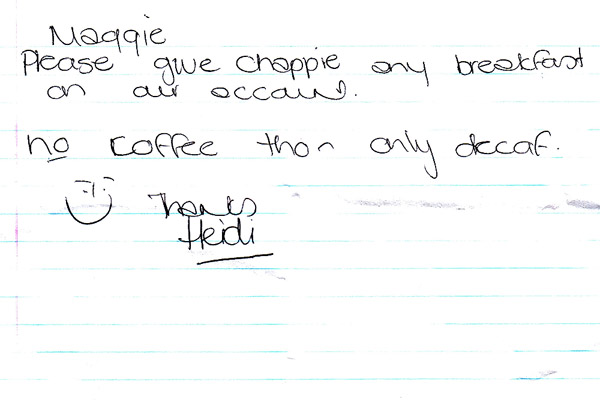 Note from Mrs Smith. She knows me too well.
Gallery of random images from a super fun Grom trip to J-Bay.