So another amazing surf trip up the East Coast of South Africa to Jeffery's Bay.
This time I was working on a project for an overseas publication and in my spare time, catch some of the country's best junior surfers battle it out at the South African junior surfing Championships. (click to view my post on the champs)
As my departure date drew near, a good looking swell started to appear on the charts so I headed up a few days early in the hope of scoring some decent waves. This, sadly, would mean I would have to mission through one epic Cape storm for the first 3 hours of the journey, which was not fun.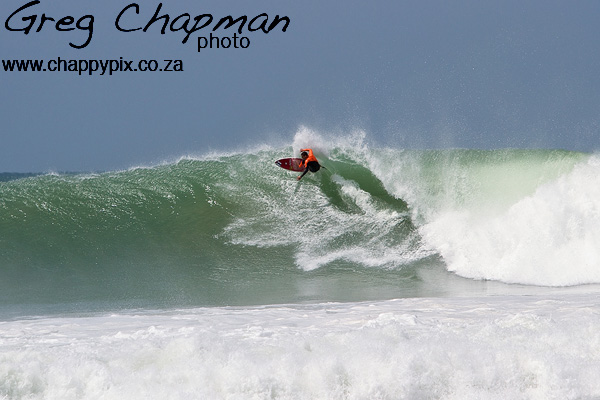 We so scored on this trip. Kelvin Zehmke and a solid Supers wall
Arriving in J-Bay to a good but fun swell was a little disappointing as I was expecting something a little more intense. However I was super stoked to be away from the miserable cold wet weather of home and I just love being here.
In between the bodysurfing and chilling on the beach there were a few fun waves that were deserving of some attention.
For the first few surfs I was with Western Province's U17 new cap, Matthew Koen.
I was last up here in J-Bay with Matt in January and he was very impressive then so I had high hopes.
Armed with a new board Matt was super serious about the upcoming SA Champs and was surfing around four times a day. It did take him a short while to get the wave wired again as lets face it, this is no Longbeach Kommetjie, but once he did he ripped both supers and point with much confidence. He has a good powerful front side hack, which is well suited to the peeling walls of Super tubes and The Point.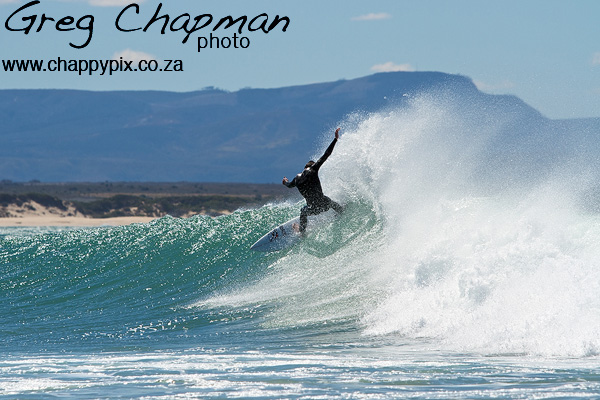 Matt Koen had some fun sessions early on this trip
Watching Mikey February shred slight onshore Supers was very entertaining. Mikey is such a talent and makes something out of nothing with such consistency and im always amped to hook up with him.
However the one session that stands out during this first week was down
at the point.
Here I was blessed with the talents of Matt Koen, Chanelle Botha and Nicole Pallet to name a few. Mikey Feb was catching runners from Tubes and smashing them beyond the point.
I was highly impressed with the two girls who both are members of the national junior team. Nicole was laying down thick hacks like nobody's business while Chanelle surfed with a calculated blend of power and precision.
Matt did his confidence the world of good by getting some waves and smashing them.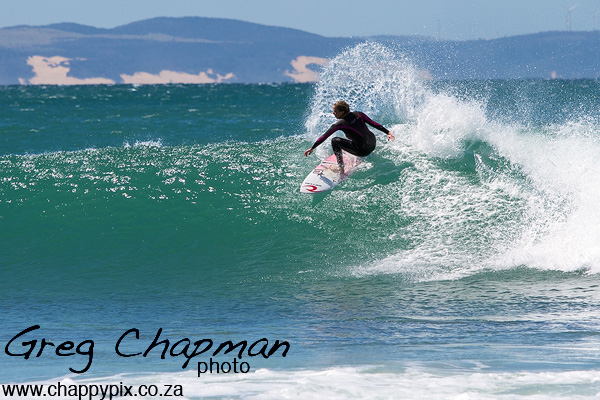 Nicole Pallet found some clean walls to smash
It was around this time that the swell charts started to predict something special in a week's time. In the meantime we had to make do with small inconsistent fun waves for SA champs.
During SA champs I was also working on a mini project with surfer girl, Crystal Hulett.
Crystal was the defending SA U15 champ and she left a positive impression during a shoot in July so I was keen on working with the talented young lady from St Francis.
Crystal was so much fun to work with! Easy to shoot lifestyles and she surfs so good. This was also the first time that I got to shoot from the water and I was super amped as I could shoot minus an uncomfortable wet suit. It was a little disappointing I did not get to shoot Crystal in epic waves. However I was getting pretty amped for what lay ahead in terms of the swell model's predictions…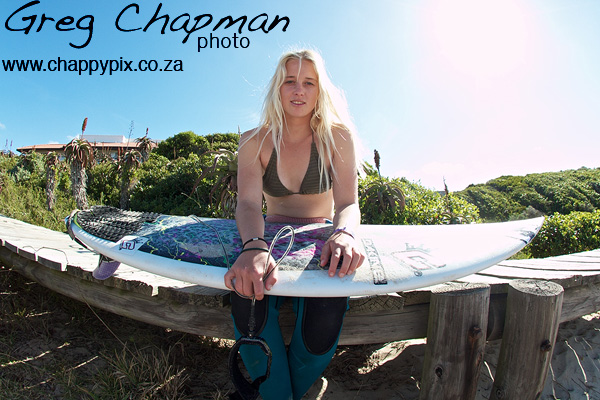 Crystal Hulett on the Super Tubes board walk
Friday morning dawned to not so spectacular waves but the weather was changing and there was this ominous look about the ocean. Something serious was out there…
By mid morning there were good waves running down the fabled point. I took a few grab shots up at supers on my way down to check out the Champs and it was already starting to get good.
I shot for a short while at the Champs getting a few rad shots but when I headed back up to Supers, the waves were going off.
This afternoon session was insane!
4-6 foot runners with some quality surfers populating the line up.
Local Lad, Dylan Lightfoot was ripping anything and everything to shreds on his polished forehand. Big hacks, clean carves and barrels, Dylan was going nuts.
Another standout on this particular afternoon was coach Llewellyn Whittaker.
Llewellyn was on his backhand and was drawing clean precise lines and handing out a solid whack to an unsuspecting lip. The one shot that stands out here was off Lew. A big perfect carve in epic late afternoon light.
Steff Burrows, another on his backhand, was also charging the epic waves. Steff is a powerful surfer and his style is well suited to Super Tubes.
I ended shooting well past sundown, just so amped and did not want to miss anything.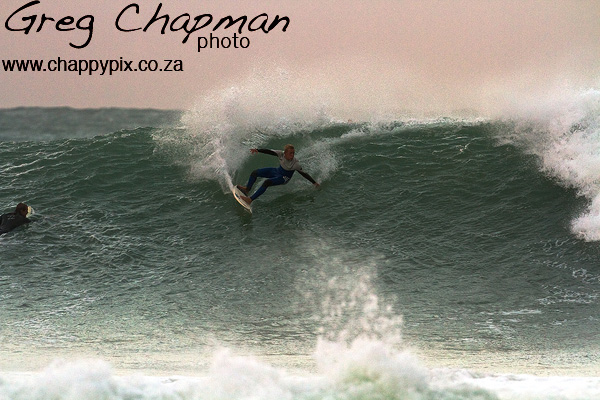 Evening Carve with Dylan Lightfoot
The following morning arrived and things got serious.The bay was filled with solid 8 to 10 foot sets at sunrise.
There were a few brave souls that made it out to the line up and now had to deal with death sets and a ferocious current. Being cold, overcast and rainy this was not shootable but it was defiantly a spectacle
By 10am conditions improved and SA champs had been called on with only the boys surfing. I headed down to point to watch some of the heats. Watching the groms surf the massive waves was amazing. The lighties where charging.
However, every now and then, guys like Slade Prestwich, Grant Baker and Dylan Lightfoot would come flying around the corner from Super Tubes, getting barreled beyond belief.
The section between Impossibles and Tubes was one epic Tube and the guys were getting barreled for days. It seriously was jaw-dropping stuff.
These were without doubt, the best waves I have seen in J-Bay.
Dylan Lightfoot, for one, was getting waves from Boyneyards all the way down to point. If it was not for the contest, I suspect he could have
ended up at Albatross.
After watching the boys U17's smash their quarter finals I headed back up to supers to catch some of the action.
I shot a few pulled back with the 70-200mm then switched to the 400mm to shoot standard action.
The Highlight of this session has to be J-Bay local Steven Sawyer.
Steven, on his backhand, was killing it.
I love goofy-foots out here at Supers. Shooting from land back-hand (to me) looks nicer and more intense, when done right. Steven is the ultimate style master of Super Tubes and it was such a privilege to get him in these waves something I will remember for a very long time.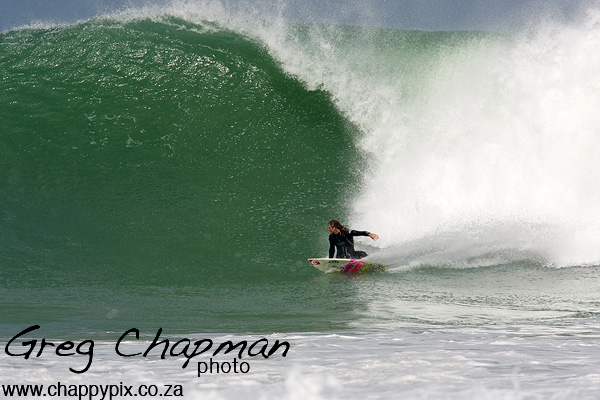 Steven Sawyer was a standout this session
In the water with Steven I had current ISA world champ, Shaun Joubert.
Shaun a natural foot surfer was ripping. Drawing clean lines, throwing large chunks of water and smashing lips, Shaun put on a wonderful display of quality surfing in epic waves.
Dylan Lightfoot was another that was going nuts in the mental waves.
This was an absolute crazy day of shooting surfing. One I will not forget in a hurry and still so stoked and grateful to have been part of this.The only downside of this session was the weather. The rain, clear up, rain, clear up, rain nonsense was a little irritating but i still  came home with some mental images.
The following day there was still epic waves. A little smaller and dropping throughout the day so I was keen to get some water shots.
After changing her mind a number of times I finally fetched Emma Smith for a little shooting mission.
I needed to shoot with Emma for this project I was doing and was looking forward to the possibilities, as Em was full of confidence after another massive win the previous weekend.
I so enjoy shooting with Emma, not only is she a natural talent, she is always so amped and  crazy (fun). I also feel so comfortable and connected with her in the water and she is pushing my water photography like no other. (only been shooting water for a year)
After checking a couple of spots we settled on an uncrowded, fun looking beach break town side.
This ended up being quite a swim, as it was breaking further out than it looked. It took me about 10minutes to swim out through some deep and sketchy water to get to get into the impact zone.
It was not long before Emma got a wave. As I was shooting it, I knew she had nailed it. I can't review shots out in the water but I had this feeling we got something good.
The very first wave I shot of Emma on this trip and she produces an epic
A-Grade. She is such a superstar and never disappoints.
We stayed out for a couple of hours and I was a little concerned about missing the SA junior champs finals but I was having a blast with a talented and amazing friend. Felt so blessed to be out there, even when we headed into the shorebreak where I got caught in a strong current.
This was a rad first shot with Emma, we nailed some sick shots and still caught most of the finals at SA champs.
The next day the onshore picked up and the swell had dropped. However after breakfast Emma some how convinced me to go swim point with her, her sister Gina and friend Amber.
There was a good reason why it was just the four of us out. The currents were also giving me another solid workout. However this ended up being a fun little swim, except for the part where I got cut up trying to get out over the rocks.
I was pretty surprised when I reviewed the images to discover Emma had nailed a couple of sick shots. Another productive little shoot.
The following week was all about hanging with the Smith sisters and working on this project.
One highlight was when Emma, Gina, Zoe and myself made a little half day trip to Cape St Francis on a cracker of a day (but lacking in swell).
When we arrived at Seals beach break we were greeted with fun 2 foot uncrowded waves and the best part was the water was warm (by my standards).
I swam for about two hours in just a wetsuit top  getting good shots of all the girls. I think this was the first time I have had the pleasure of the three girls all together and we had so much fun. They really are a unique (read: crazy) trio!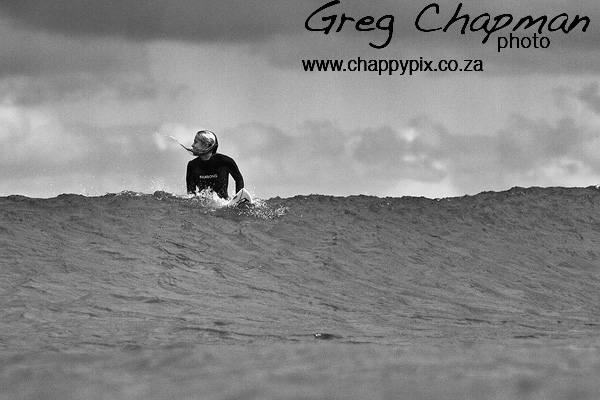 Emma Smith looking a little lost
Sadly the weather went a bit wintery but this allowed me to shoot some portraits and lifestyles with the smiths.
There were also a few trips to Nina's for chai lattes good food and many laughs.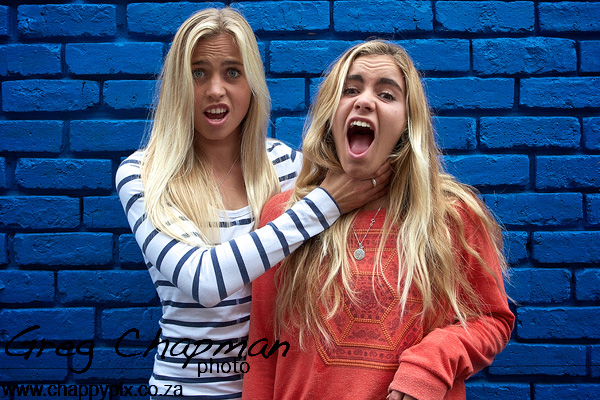 Gina Smith Finally gets to much for sister Emma
Super awesome trip this one!
The epic swell was a blessing and it made me so happy to be shooting quality sufers in pumping waves again.
The week with the smiths was also special.
Not only did we produce a quality feature (written mostly by Gina) and create sick photographs, I got so spoilt by the Smith family. Emma in particular went out of her way for me.
So a huge THANK YOU to the Smiths for everything, It was all very much appreciated.
Hope to see you all very soon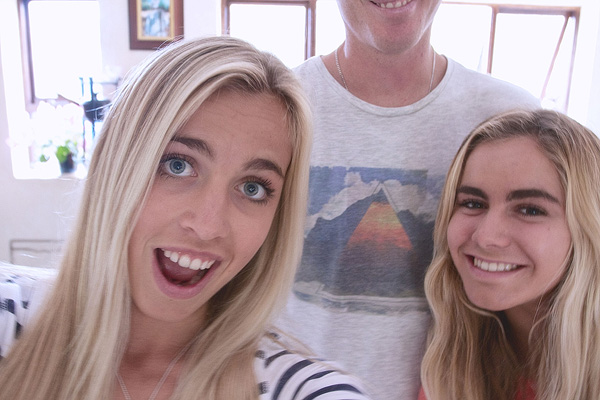 Emma forgets I am a little taller than her and Gina
 Random gallery of left over shots of "The Swell"
Random Gallery of other surf shots
Little Lifestyle Gallery